Arman Shirinyan
Crypto Market Review: XRP coming back from hiatus after attempt to break through toward $0.5
XRP is staging a comeback. After a period of languishing below the psychological $0.5 mark, the digital asset has clawed its way back to $0.49. It is not just hovering there either; it is showing signs of life, with sporadic upward movements and minor dips. As of the latest data, XRP is priced at approximately $0.476.
Now, let's talk numbers. The market is still bearish on XRP, with a noticeable lack of liquidity. Many traders are shorting the asset, which usually spells trouble. But here's the kicker: despite these headwinds, XRP is holding its ground around the $0.49 level. It is like watching a boxer take hit after hit and still stay on his feet.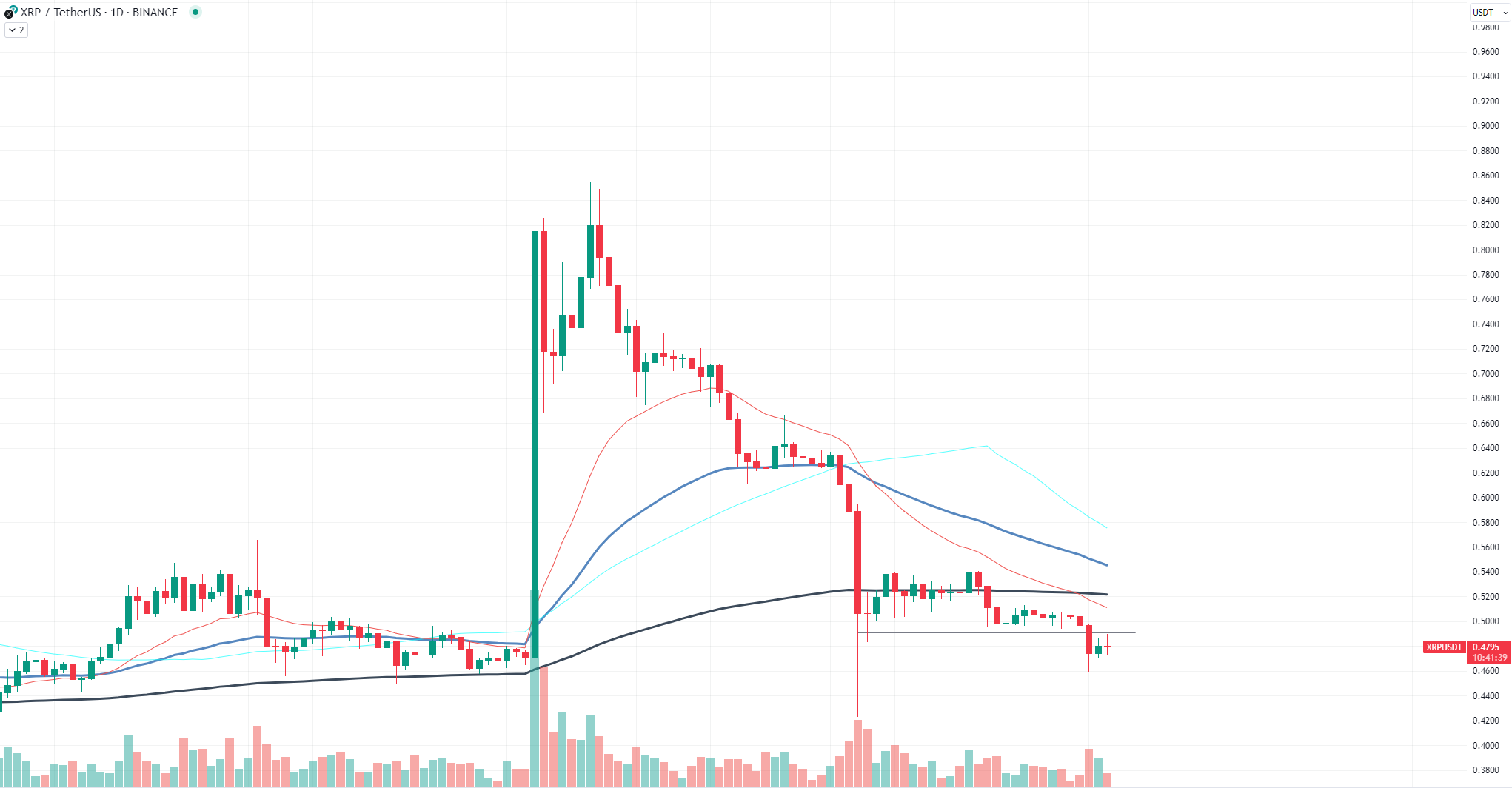 What's fueling this resilience? One theory is that the market has bottomed out for XRP. With the price refusing to dip below $0.475, it seems like we have hit a floor. The market seems to be catching on to this, and we are seeing a slight uptick in buying activity.
If XRP can maintain this momentum and perhaps get a boost from some positive news or market sentiment, breaking the $0.5 barrier might not be a pipe dream.
Shiba Inu's RSI delivers sign
Shiba Inu's Relative Strength Index (RSI) has surged past the 36-point mark. Traditionally, anything below 30 is considered bearish, and Shiba Inu's RSI has been languishing in that territory for a while. But now, it has clawed its way up to 36, which is the upper boundary of the bearish RSI range. At 50, the RSI is considered neutral, so this uptick could be a harbinger of a shift in market sentiment.
Price-wise, Shiba Inu is currently trading at $0.00000725. While the price has not shown any dramatic leaps, this RSI movement could be a precursor to a price change.
Now, why is this RSI shift intriguing? It is because RSI is often a leading indicator of a potential reversal in price trends. If the RSI continues to climb and crosses the 50-point mark, we could be looking at a bullish phase for Shiba Inu. But let's not get ahead of ourselves; the market is a fickle beast, and other factors could easily sway the momentum.
What is also worth noting is that the market for Shiba Inu is still rife with short positions and lacks adequate liquidity. This means that while the RSI shows promise, the actual price movement could be stymied by these market conditions. It is like seeing a sprout in a drought-hit area; yes, it is a sign of life, but it needs water to grow.
Cardano might break through
Cardano's ADA token is at a crossroads, teetering on the edge of a significant milestone. The 21-day Exponential Moving Average (EMA) is within reach, a level that often serves as a litmus test for bullish or bearish trends. But do not get too excited just yet. Open interest data throws a wet blanket on optimism, hinting that Cardano might lack the oomph to break through.
As of the latest data, ADA is priced at approximately $0.2465. While this might seem like a modest figure, it is crucial to remember that the 21 EMA often acts as a pivot point. A sustained move above this level could signal a bullish phase, while failure to break through might send ADA back into bear territory.
However, open interest — essentially the total number of outstanding derivative contracts, like futures and options — suggests caution. High open interest often indicates strong investor interest, but it can also signal an impending reversal if it does not align with the current trend.
What's the takeaway? Well, Cardano's ADA is like a sprinter at the starting blocks, muscles tensed and ready to bolt. But whether it will sprint forward or stumble is still up in the air. The market is a fickle beast, and ADA's next move could be influenced by a myriad of factors, from investor sentiment to macroeconomic indicators.