Arman Shirinyan
Currently trading at $0.51, asset's future trajectory could be heavily influenced by these technical indicators
XRP has been making headlines with its recent price performance, but it's not all smooth sailing for the digital asset. As of the latest data, XRP is trading at approximately $0.5179, and it is running into some significant resistance levels that could potentially halt its upward momentum.
One of the most formidable barriers that XRP is facing is the 200 exponential moving average (EMA), a widely-followed technical indicator that often acts as a strong resistance or support level. If XRP fails to break through this level, it could be pushed back to its local lows, creating a challenging environment for bullish investors.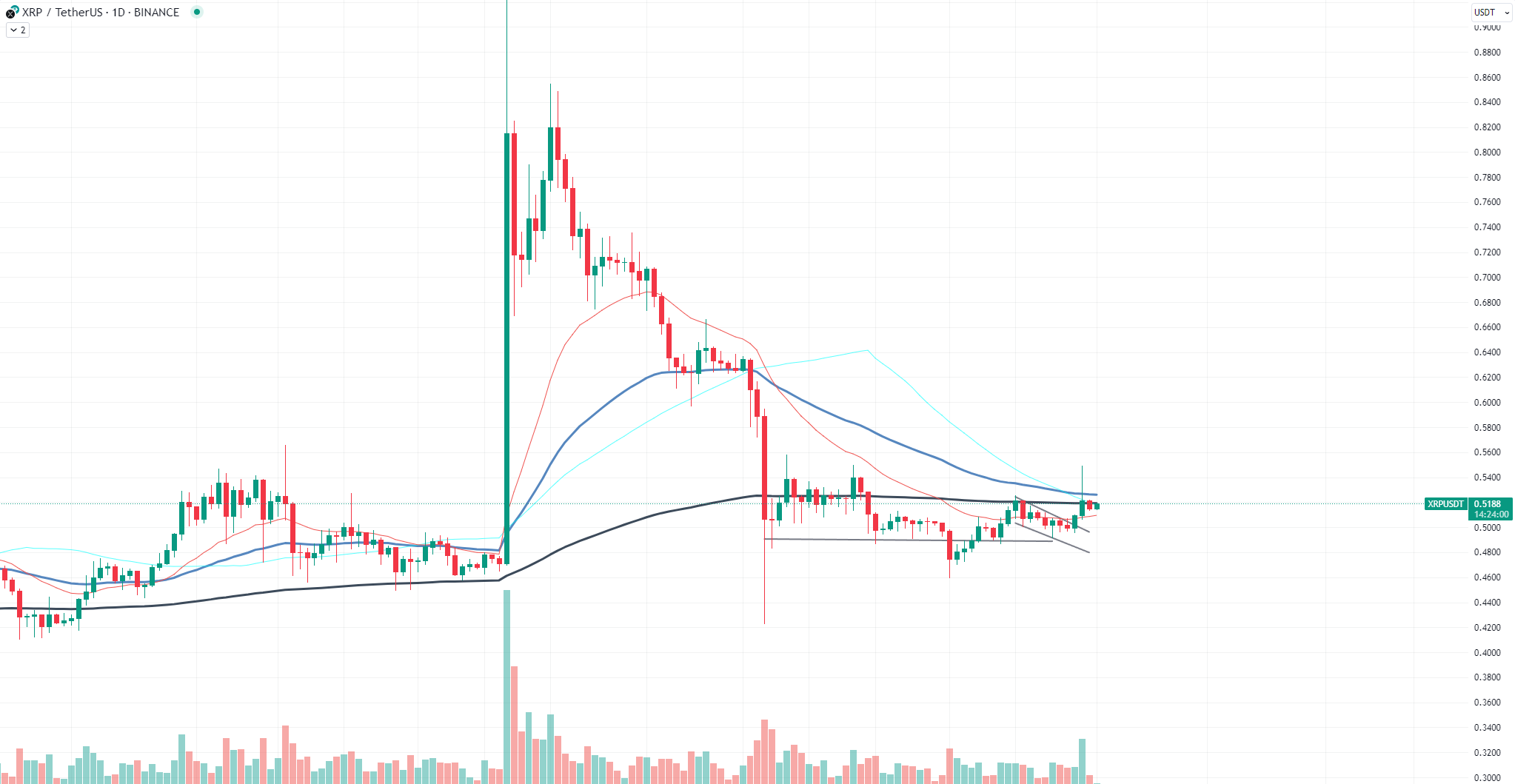 Adding to the complexity is the 50 EMA, another critical resistance level that could exert downward pressure on XRP's price. The 50 EMA is often considered a shorter-term trend indicator, and its position above the current price suggests that XRP could experience further downside before any significant upward movement occurs.
Given the current market dynamics, these resistance levels are not to be taken lightly. They serve as crucial decision points for traders and could significantly influence the asset's price in the short to medium term. A failure to break through these levels could trigger a sell-off, while successfully surpassing them could pave the way for a more extended rally.
Whales push PEPE down
The PEPE token has recently encountered a formidable roadblock. The token's price is currently trading at $0.0000008, according to recent data. This downturn is largely attributed to increased whale activity on the PEPE network, which has led to a sell-off.
The token's price chart reveals that it has hit a solid resistance level, reflected in the 50 EMA on a daily price chart. This is a critical point for any asset, and for PEPE, it could mean the beginning of a more extended downward trend if whales continue to sell their holdings.
Whale activity often has a significant impact on the price performance of tokens. In the case of PEPE, it appears that whales have started to take profits, leading to a decrease in the token's price. This activity has created a roadblock for PEPE, making it difficult for the token to sustain any upward momentum.
The market dynamics suggest that if whales continue to offload their PEPE holdings, a long-term reversal for the token is unlikely. This could be detrimental for retail investors who might be looking for signs of a bullish run. The 50 EMA serves as a strong indicator of this, and if PEPE fails to break through this resistance level, we could see further downward movement.
Ethereum moves through
Ethereum (ETH) is currently trading at $1,680.44, and it is clear that the asset is on a bullish trajectory. The cryptocurrency has successfully broken past the 50 exponential moving average (EMA), a crucial indicator often used by traders to gauge market sentiment. The next significant hurdle for Ethereum is the 200 EMA, but given the current market dynamics, that does not seem too far off.
The volume accompanying this uptrend is also noteworthy. A rising trading volume generally indicates strong investor interest and can be a precursor to sustained price action. If Ethereum maintains its current pace, it could soon break above the psychologically significant $1,700 level, which would undoubtedly attract even more attention to the asset.
One of the most encouraging signs for Ethereum is its resilience. Despite various market fluctuations and the ever-present volatility in the cryptocurrency space, Ethereum has managed to maintain its upward trajectory. This resilience is a strong indicator that we may not see a reversal in the near term, further solidifying the asset's bullish outlook.
However, it is essential to approach this with a level of caution. While the indicators are overwhelmingly positive, the cryptocurrency market is notoriously unpredictable. Traders and investors should keep an eye on market trends and adjust their strategies accordingly.