Do the largest home insurance providers in the US offer the best coverage for your needs? Find out if size really matters in terms of protection
When choosing the best protection for your home, does bigger really mean better when it comes to your home insurer? Many American homeowners seem to think so based on the latest market share data released by the National Association of Insurance Commissioners (NAIC), which revealed that the 10 largest home insurance providers in the US accounted for almost two-thirds (64%) of the overall market.
Homeowners are often attracted to the wider coverage options, more competitive rates, and better financial security that these industry giants offer compared to their smaller counterparts.
If you're a homeowner looking for optimal coverage or an insurance professional assisting clients in finding the best protection for their homes, this article can help. Here, we will rank the 10 biggest home insurers in the country based on market share and direct premiums written, and touch on the type of coverage each delivers. These are the largest home insurance providers in the US, according to NAIC's latest property and casualty (P&C) market data.
Market share: 18.4%
Direct premiums written: $24.4 billion
Direct premiums earned: $23.2 billion
State Farm tops our list of biggest home insurers, accounting for almost a fifth of the nation's $133-billion home insurance market. The Illinois-headquartered insurance behemoth's market share is more than double that of the next-ranked insurer. But apart from this, State Farm is the US' largest P&C insurer, taking up almost a tenth of the overall market based on NAIC's figures.  
State Farm offers home insurance in 48 states and Washington, D.C, with its network of over 19,000 local agents ready to assist clients with questions and claims. Its homeowners' policies come with all the standard features, but policyholders can choose to purchase riders for enhanced protection. The increased dwelling limit add-on, for example, automatically raises your replacement cost amount by 20% if your house is insured at least up to the estimated replacement cost. You can also upgrade your home insurance to cover inflation, earthquake damage (California only), and identity theft, as well as replacing cooling and heating units with energy-efficient versions after a loss.
State Farm has one of the highest customer satisfaction ratings in J.D. Power's latest survey, garnering a score of 829 out of a 1,000-point scale, which is above the industry average. Besides topping our home insurance list, the company has the biggest market share among the largest car insurance providers in the US at almost 17%.
Market share: 9%
Direct premiums written: $12 billion
Direct premiums earned: $11.2 billion
Allstate home insurance policies are sold in all 50 states. You can purchase coverage for all types of homes, including:
Apartments
Condo units 
Mobile homes
Rentals
If you're renting out your home via Airbnb or other vacation rental platforms, you can take out the insurer's home-sharing policy, called HostAdvantage, which pays out if your belongings were stolen. The policy also provides up to $10,000 coverage per rental period to help pay for repairs that the standard home insurance does not cover. Besides this, you can choose from an array of add-ons, including:
Water backup coverage
Green improvement reimbursement, which covers the cost of replacing damaged appliances with energy-efficient units
Electronic data recovery
Identity theft restoration
Yard and garden coverage
Business property coverage
Allstate has a customer satisfaction rating of 815, which is a few notches below the industry average. It is also among the top P&C insurers in the country. If you want to see a state-by-state breakdown of the largest property and casualty insurance companies in the US, just click the link.
Market share: 7.3%
Direct premiums written: $9.7 billion
Direct premiums earned: $9 billion
Liberty Mutual is a good option for homeowners who prefer an online experience over working with an insurance agent. One of the benefits of picking the mutual insurer as your home insurance provider is having access to its user-friendly website complete with an assortment of jargon-free informative resources about your coverage. You can also manage your policy through your smartphone via the insurer's mobile app.
Liberty Mutual's home insurance policies come with all the standard features, with an option to extend coverage through add-ons, including inflation protection and identity fraud expense coverage. The insurer is also known for its comprehensive range of discounts. You may be eligible for reduced premiums if you have a paperless policy, have just installed a new roof, or opt for automatic monthly transfer payments.
Liberty Mutual is among the tailenders in J.D. Power's customer satisfaction survey, scoring 805, good for 14th place among 20 insurers included in the poll. The mutual insurer, however, is known to be one of the best insurance companies to work for in the US.    
4. USAA
Market share: 6.6%
Direct premiums written: $8.8 billion
Direct premiums earned: $8.3 billion
USAA caters exclusively to members of the armed forces, reserves, veterans, and their families. It is also among the largest home insurance providers in the US, serving almost 13 million members. Apart from standard inclusions, USAA policies offer earthquake coverage in certain states and home-sharing coverage for those who rent out their homes.
In terms of add-ons, USAA offers umbrella insurance and identity theft coverage. Discount options are also not as comprehensive as those from other insurers in the list, with home and auto bundling discounts accessible only in some states.
USAA consistently gets the highest score in J.D. Power's annual customer satisfaction survey, often leading the next-placed insurer by a mile, but due to the limit on who can obtain coverage, it is not included in the rankings. In the latest poll, it has again achieved the highest ratings at 884, way above the industry average of 819 and the second-best score of 849.
Market share: 6.2%
Direct premiums written: $8.2 billion
Direct premiums earned: $7.9 billion
Farmers home insurance is available in 41 states and has the typical inclusions present in standard coverages, including dwelling, personal property, and additional living expenses (ALE). The Los Angeles-based insurer caters to about 10 million households and services around 19 million policies.
Policyholders can get quotes and file claims online, which you can also do so with the help of an insurance professional. You can also customize your policy with a range of additional riders. These include building ordinance coverage if your home needs to be rebuilt or modified after a claim to comply with current codes and regulations, and a personal articles floater for your valuable possessions.
Farmers is not known to have competitive rates, but it offers a variety of discounts to slash your premiums, including if your home has green certifications like EPA or Energy Star and if it has safety and security devices installed.
Farmers has the second-lowest customer satisfaction score among our featured insurers at 792. However, its business owners' policy was named the best for retail businesses and includes business interruption coverage.  
Market share: 4.9%
Direct premiums written: $6.5 billion
Direct premiums earned: $6 billion
Travelers' comprehensive selection of add-ons allows you to access a home insurance policy that caters to your unique needs. Among these optional extras is green home cover, which pays for the cost of eco-friendly materials used in repairing or rebuilding your property. Coverage for your valuable belongings and against identity theft is likewise accessible.
Travelers has a user-friendly website that enables you to submit and track claims easily. The site is also a good source of educational materials on basic homeowners' insurance questions.
Travelers home insurance is available in 45 states and Washington, D.C. One major drawback with choosing the provider, however, according to some review sites, is the number of complaints it has received on claims processing and customer experience. It has a below-average customer satisfaction rating, just a notch above that of Farmers. 
7. American Family
Market share: 4.4%
Direct premiums written: $5.8 billion
Direct premiums earned: $5.4 billion
Among the largest insurance providers in the US, American Family offers policies for a range of home types, including:
Apartments
Condos
Manufactured homes
Single-family residences
You can also purchase home insurance for vacant or unoccupied dwellings and personal possessions in senior living facilities.
Apart from standard inclusions, you can extend the coverage of your policy by purchasing the following riders:
Pump overflows and sewer backups coverage
Identity theft coverage
Equipment breakdown coverage
Matching siding protection
Home business liability
Diminishing deductible
American Family has an excellent track record when it comes to customer satisfaction, registering the second-highest score at 842. However, its home insurance policies are available only in 18 states.
Market share: 2.8%
Direct premiums written: $3.8 billion
Direct premiums earned: $3.6 billion
Nationwide's standard home insurance policies come with a range of benefits that are not present in those of its competitors. These include ordinance or law insurance, which pays out the cost to rebuild a property according to current codes, and credit card coverage, which protects against unauthorized transactions and forged checks. Such features can be purchased as add-ons from other insurers.
Nationwide also offers among the most competitive rates of all the home insurance companies on our list. But policyholders can slash premiums further with a range of discount options like new home and prior insurance discounts, and home renovation credit. Nationwide's customer satisfaction rating, however, is a few points below the industry average.
Market share: 2.6%
Direct premiums written: $3.4 billion
Direct premiums earned: $3.3 billion
Apart from ranking among the largest home insurance providers in the US, Chubb is the nation's biggest commercial insurer and one of the largest insurance companies in the world based on market cap. The insurance giant offers a variety of personal insurance, including auto, life, and renters' policies, in addition to homeowners' coverage.
Chubb's Masterpiece Homeowners policy, one of its most popular products, has features other home insurers offer only as add-ons. These include water backup, replacement cost, cyber, and identity theft coverage. The policy will also cover the cost to restore data if your computer is hacked by cybercriminals and install new locks if your keys are lost or stolen. Earthquake and flood coverage are likewise available.
Chubb's customer satisfaction rating of 809, however, is below the industry average.

10. Progressive
Market share: 1.8%
Direct premiums written: $2.4 billion
Direct premiums earned: $2.3 billion
You can purchase home insurance from Progressive through its Progressive Home Advantage network of providers, which includes its American Strategic Insurance brand. You can also access its online HomeQuote tool, which provides a comparison of quotes from different home insurance companies.
Apart from standard coverage, you can boost your home insurance policy's coverage by buying riders such as water backup, personal liability, and personal injury coverage. You may also qualify for discounts if you opt for paperless transactions, sign up early for a policy, and pay premiums in advance. Progressive, however, registered a customer satisfaction score of 801, which is below the industry average. 
Here's a summary of the 10 largest home insurance providers in the US.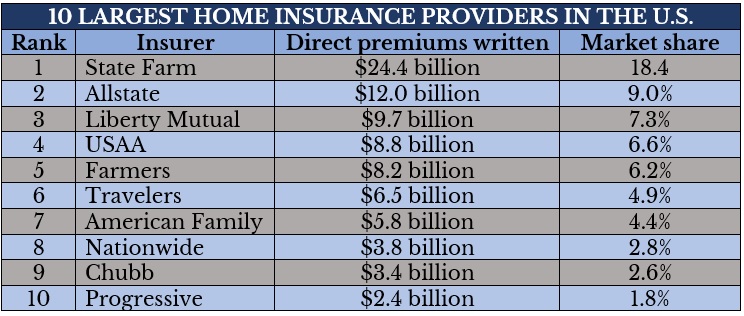 Definitely. Size does matter when choosing the home insurer that can provide the best coverage for your home, but whether it is better to go with an industry giant or a small local provider will depend on your needs and circumstances. 
The largest home insurance companies often offer a wider range of products and more competitive premiums than their smaller counterparts. They are also more financially stable, which means they can protect homeowners against a broader assortment of risks and can devote more resources to improve customer services and claims processing.
Choosing a smaller home insurance provider, however, also has its benefits. Some smaller insurers may perform better when it comes to delivering personalized services and more specialized coverage. These companies may also be able to provide local rates that may be less expensive. The bottom line is both options have their share of pros and cons.
If you're having difficulty deciding which way to go, an experienced insurance broker or agent can help you make an informed decision.
The table below lists the average cost of coverage from the largest home insurance providers in the US.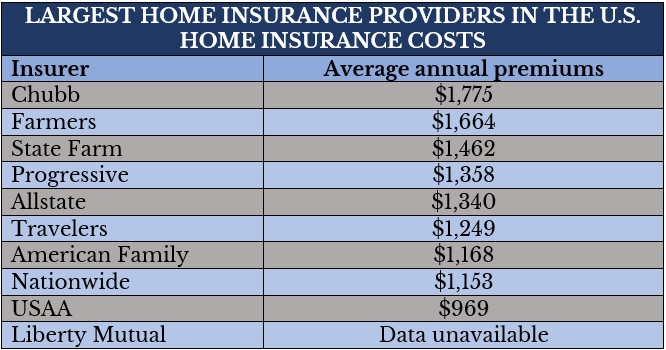 To find out how much premiums cost from these home insurers, Insurance Business referred to Quadrant Information Services data compiled by this website. The rates above are for a $250,000 dwelling coverage for a 40-year-old homeowner with a clean claims history and good credit rating.
Home insurance is a dynamic market and changes can happen in a snap. If you want to keep abreast of the latest in the home insurance space, be sure to visit our Property Insurance section regularly for breaking news and industry updates. You can also bookmark the page for easy access. 
Have you experienced taking out a policy from the largest home insurance providers in the US? Feel free to share your story in the comments section below.
Keep up with the latest news and events
Join our mailing list, it's free!