Arman Shirinyan
Crypto Market Review: Shiba Inu's volatility finally going up, and in addition to that, we are seeing revival of on-chain metrics of meme token
Shiba Inu, the meme coin that has been making waves, is stirring up the crypto waters again. This time, it is not just idle chatter; the numbers speak volumes. A recent uptick in volatility suggests that Shiba Inu might be gearing up for a trend reversal. But that's not all. The coin's price is also showing signs of life, adding a layer of optimism to the mix.
ShibaSwap, the DeFi platform where SHIB, LEASH, and BONE converge, currently has a total value locked (TVL) of approximately $23.4 million. While the 24-hour change shows a modest increase of 0.51%, the platform has experienced a 10.95% dip over the past week. So, what's the takeaway? The short-term fluctuations are part of a broader landscape — one that's ripe for change.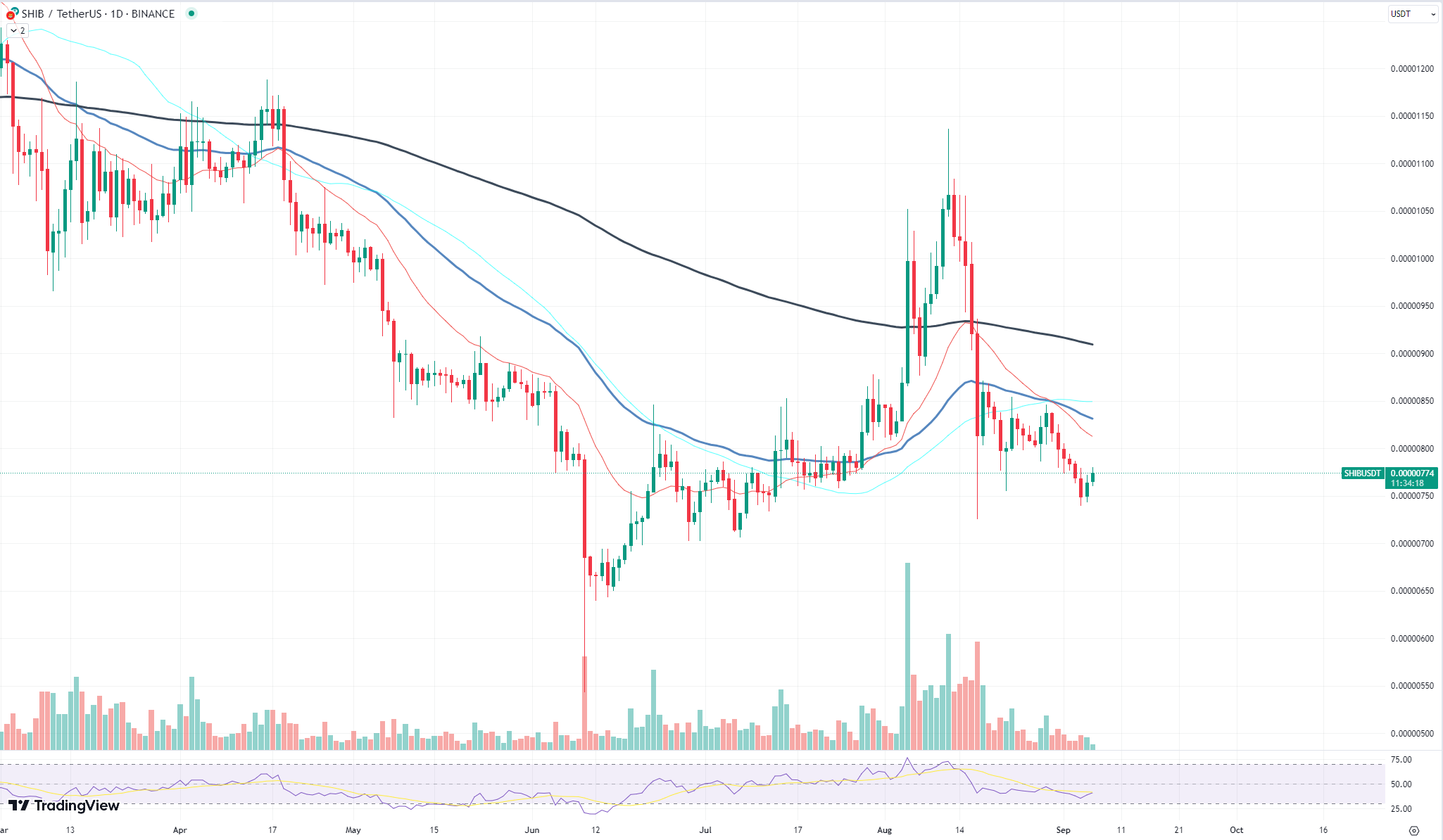 Now, let's delve into trading volume. It is low — almost eerily so. But do not let that fool you. Low trading volume during a period of increased volatility often signals that the market is recalibrating.
The Shiba Inu burn rate has skyrocketed by a staggering 270% in the last 24 hours. For the uninitiated, "burning" refers to the act of permanently removing coins from circulation, thereby reducing supply and potentially increasing demand. This sudden surge in the burn rate could be the catalyst that propels Shiba Inu out of its current holding pattern.
What's the game plan? Keep a close eye on Shiba Inu's trading volume and burn rate. These metrics could serve as the breadcrumbs leading us to a significant market move. Whether you are a day trader or a long-term investor, these subtle yet crucial signs are your cue to sit up and take notice.
Cardano's stalemate is not over
Cardano (ADA) finds itself in a perplexing situation, caught in a stalemate that is sapping its vitality. As of the latest data, ADA is trading at approximately $0.256, a figure that does not exactly inspire confidence. The market's volatility has taken a nosedive, and this lack of action is pushing ADA into a corner.
Why does this matter? Well, the crypto arena thrives on speculation. When an asset like ADA enters a stalemate, it is akin to a chess game, where neither player can make a decisive move. The result? A stagnant trading volume and a market that is more hesitant than a cat near water.
The absence of volatility is a double-edged sword. On one hand, it offers a respite from the nerve-wracking ups and downs that characterize the crypto market. On the other, it dampens the speculative fervor that often drives trading volume. And let's not forget, a large chunk of ADA's trading volume comes from speculation. So, when that goes missing, it is like taking the wind out of Cardano's sails.
Ethereum in trouble
Ethereum's trading landscape is painting a picture you would rather not look at. With the market awash in liquidity, you would expect some signs of recovery. But Ethereum's doing the opposite. A surge in trading volume, coupled with a relentless downtrend, is a red flag signaling the bears are not done yet.
As of the latest data, Ethereum is trading at $1,629.04. Now, you might think a high trading volume would be a good thing, right? Not when it is paired with a downtrend. It is like pouring gasoline on a fire you are trying to put out. The volume surge amplifies the downtrend, making it harder for Ethereum to claw its way back up.
Ethereum still has its fundamentals intact. It is the trading sentiment that has taken a hit. And sentiment, as fickle as it is, can change. The key takeaway here is to tread carefully. If you are thinking of entering the market, maybe hold off until Ethereum shows signs of stabilizing.