How much do insurance brokers make? The answer may surprise you
One aspect that makes an insurance broker's job truly rewarding is that they get to play an essential part in helping people find the coverage best suited for their needs. But is the pay worth it? 
In this article, Insurance Business answers the question, "How much do insurance brokers make?" We will also do a state-by-state and city-by-city comparison of insurance broker salaries, so both the insurance buyers and industry professionals can have a clearer picture of the different factors that impact a broker's earning potential. Read on and learn more about how much insurance brokers earn in this guide.  
Different employment search websites have different estimates of the average annual salary of insurance brokers, which ranges between $76,000 and $97,000. Figures from the Bureau of Labor Statistics (BLS), meanwhile, do not make a distinction between insurance agent earnings and those for insurance brokers.   
For this guide, we will use data gathered by this website, which provides a state-by-state and city-by-city breakdown. The site projected that the average yearly wage of an insurance broker stands at $94,006, for an hourly rate equivalent to $45.20. The table below shows the percentile wage estimates based on the figures the site compiled.  
PERCENTILE WAGE ESTIMATES (INSURANCE BROKERS) 

Percentile 

Annual wage 

Monthly wage 

Hourly wage 

10th 

$62,000 

$5,167 

$30 

25th 

$75,000 

$6,250 

$36 

50th (Median) 

$94,006 

$7,834 

$45 

75th 

$116,000 

$9,667 

$56 

90th 

$141,000 

$11,750 

$68 
This table, meanwhile, shows the average insurance broker salaries per experience level. 
WAGE ESTIMATES PER EXPERIENCE LEVEL (INSURANCE BROKERS) 

Experience level 

Annual wage 

Monthly wage 

Hourly wage 

Entry 

$56,300 

$4,692 

$27 

Mid 

$96,400 

$8,033 

$46 

Senior 

$110,000 

$9,167 

$53 
Each state implements different regulations for insurance brokers, including rules on representing clients and licensing requirements. These are among the major factors that impact how much insurance brokers earn in various states across the country. The tables below reveal the highest- and lowest-paying states for insurance brokers.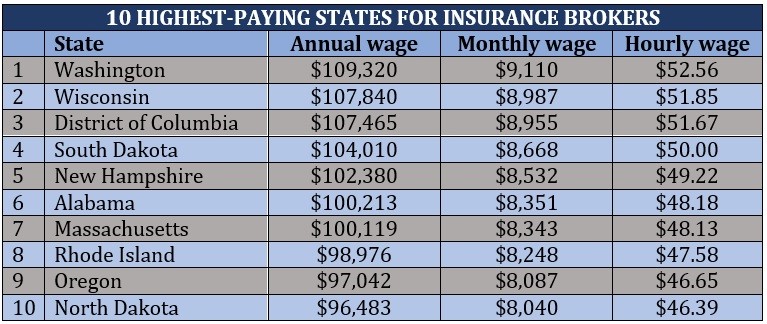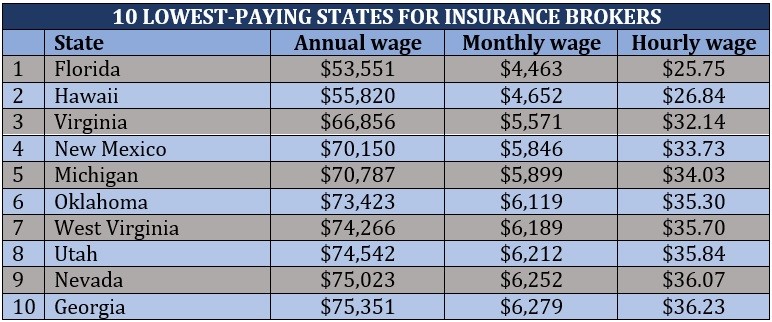 How much do insurance brokers make in the 10 highest-paying cities in the US? You can find the answer to this question in the table below.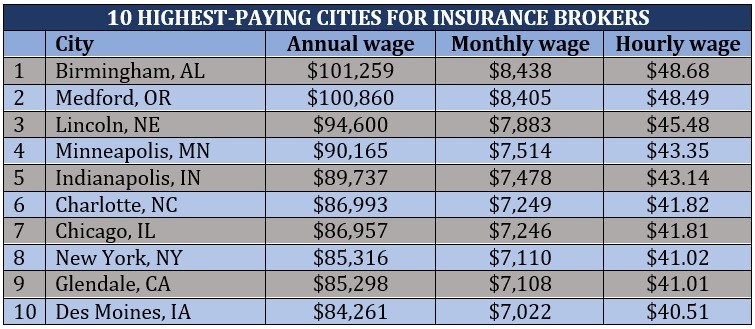 Most insurance brokers, particularly those working in insurance brokerages, receive regular salaries. As you may have noticed, the figures above are for salaried employees. However, insurance brokers can also earn an income in different ways. These are through: 
Commissions: Insurance companies typically pay brokers a percentage of the policy's annual premiums. The rate ranges from 2% to 8% depending on a state's regulations.  
Broker fees: Insurance brokers can likewise offer consultative and advisory services, which come with a corresponding fee. Just like commissions, these are often state regulated.  
Profit sharing: Insurance companies may also give insurance brokers bonuses if they reach a certain profit target.   
Insurance brokers primarily serve as a representative of the consumers, helping insurance buyers assess their risks and assist them in finding the right policies based on their risk profiles and financial resources. There are also states that impose fiduciary duties on brokers, meaning they are required by the law to act only in the best interests of their clients. In addition, these insurance professionals are expected to guide customers through the whole insurance-buying process. 
There are three main types of insurance brokers. These are: 
Retail insurance brokers: These client-facing professionals work closest with the insurance buyers, guiding them in their search for the best possible coverage. Retail brokers also often handle less complex policies that cover common risks. 
Wholesale insurance brokers: These brokers provide policies with more specialized coverage. They also rarely interact directly with insurance buyers. Instead, retail brokers turn to them for policies that cover more complex risks. 
Surplus lines insurance brokers: These brokers hold special licenses, enabling them to access products for highly complex risks that conventional insurers are not willing to cover. They can act either as a retail or wholesale broker and offer products from surplus lines specialists, which are sometimes called non-admitted insurers. 
Besides insurance policies, some insurance brokers offer risk management services, including giving advice to consumers on how to mitigate risks that may not be covered under their existing policies. 
While their primary duty is to represent the consumers, insurance brokers still owe certain responsibilities to insurance companies. First and foremost is ensuring that the information they provide insurance underwriters during the application process is accurate and truthful. They must also make sure that policyholders meet premium payments on time. In addition, some insurers allow brokers to quote, bind coverages, and handle insurance claims on their behalf.  
The table below sums up some of the top responsibilities of an insurance broker.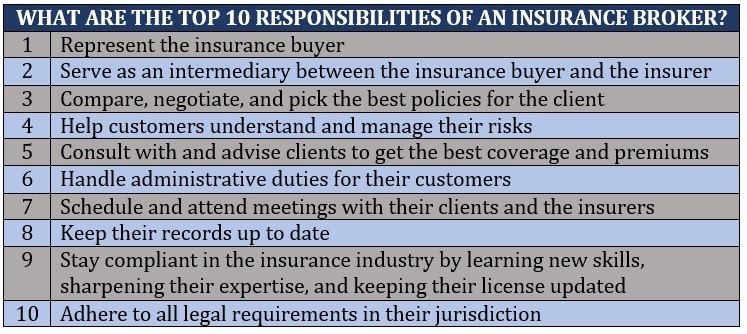 Unlike insurance brokers who are not under obligation to sell policies of certain insurers exclusively, insurance agents are responsible for selling only the policies of their partner insurers.  
An insurance agent typically represents one or several insurance companies and acts as an intermediary who provides potential clients with information about these insurers and their range of products. They are also often under contract with insurance carriers. This contract details what policies they are permitted to sell and how much they can expect for each successful sale.  
Insurance agents likewise have the power to bind coverages, something that most insurance brokers are not allowed to do, although sometimes, there are insurance providers that give them the power to do so.  
Here's a summary of the main differences between an insurance agent and an insurance broker.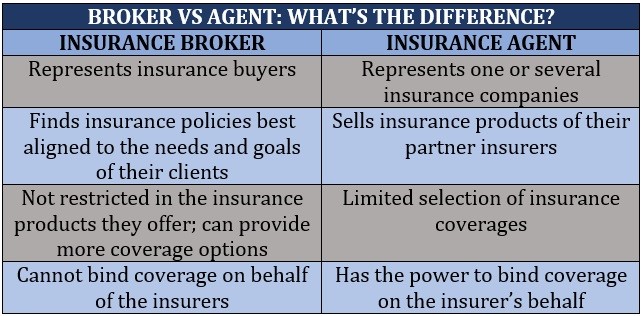 If you're wondering how agents earn money, this guide on how much insurance agents make can answer many of your questions.  
Having the opportunity to change people's lives for the better is one of the biggest reasons to pursue a career as an insurance broker. The sense of fulfillment this experience provides, however, is just among the many reasons that makes being an insurance broker a rewarding profession. Here are some of the other benefits of choosing this insurance career.  
Challenging and rewarding work: Because insurance is a constantly evolving sector, insurance brokers often face challenges that will require them to provide creative and innovative solutions. This results in a gratifying feeling at the end of the day. 
Strong earning potential: As the figures above indicate, a career as a broker often offers great compensation with a high potential for growth. 
Job security: People will always need someone to turn to if they need financial protection, including when keeping their homes safe, driving their cars, running businesses, traveling abroad, and even when taking care of their pets. That is why the services of insurance brokers will also remain in high demand. 
Career progression: The industry also paves the way for professionals to continuously develop new skills to help brokers flourish and grow in their careers. 
Social relevance: Insurance brokers are given the chance to help people overcome hardships, be it helping them recover from losing a loved one or a health-related issue or replacing lost investments and possessions. 
Continuing education: To continue moving up careerwise, insurance professionals are encouraged to pursue educational opportunities to keep their skills and knowledge updated. 
Flexibility: Many insurance brokers have the freedom to set their work schedules. The nature of the profession offers plenty of opportunities to work from home, although brokers may often need to leave their residences to meet with clients in-person.   
Insurance jobs are always on demand. If you're looking to enter the profession or want a fresh start to your career, we have compiled a list of the top websites to search for insurance jobs to help you.  
To come up on top of the industry, an insurance brokerage must be strong in different areas. This attribute is what the winners of the latest edition of Insurance Business' Top Insurance Brokerages in the USA have in common.  
Our awardees for the 2023 Fast Brokerages have all shown an all-around top performance enroute to raising their revenue to more than 20%. By clicking the link above, you can view the complete report, as well as this year's full roster of winners. These include five Fast Starters brokerages, which have been in business for no more than three years, but still leaving their marks on the insurance landscape.  
You can also visit our Best in Insurance Special Reports page to check out other top-performing insurers and insurance professionals. You can likewise subscribe to our daily newsletters to keep abreast of the latest developments within the industry. 
Do you think being an insurance broker is a good career path? Were you surprised to learn how much insurance brokers make? Feel free to share your thoughts below. 
Keep up with the latest news and events
Join our mailing list, it's free!