How much do insurance agents make? This depends on a range of factors
What entices many to take up a career in insurance sales is the strong earning potential that comes with it. But how much do insurance agents make?
Insurance Business answers this question and more in this article. Whether you're a curious consumer itching to know how much your agent earns or you're an insurance professional wanting to compare your earnings with those of others in the industry, this piece can help provide you with useful information. Read on and find out how much insurance agents really make, and the factors that influence their earning potential in this guide.
Insurance agents earn a mean annual salary of $79,650 or an hourly rate of $37, according to the latest data from the Bureau of Labor Statistics (BLS). While starting wages can be significantly lower than this number, industry veterans with an established client network can easily earn a six-figure salary. 
In coming up with the average, the bureau considered all types of insurance agents, including specialists that sell property and casualty, life and health, and other kinds of insurance policies for an employment estimate of 455,540. The table below shows the percentile wage estimates for insurance agents based on BLS' most recent Occupational Employment and Wage Statistics (OEWS).
How much insurance agents make from lowest to highest average
PERCENTILE WAGE ESTIMATES (INSURANCE AGENTS)

Percentile

Annual wage

Hourly wage

10%

$31,530

$15.16

25%

$40,030

$19.25

50% (Median)

$57,860

$27.82

75%

$81,970

$39.41

90%

$130,350

$62.67
Insurance agents usually make money through commissions, with the commission amount often depending on the type and number of insurance policies they have sold and whether these policies are new or renewals.
For new home and auto policies, captive insurance agents receive between 5% and 10% of the total premiums for the first year, while independent agents earn about 15%. For renewals, the rate is around 2% to 15%, although the average is between 2% and 5%. We will discuss the different types of insurance agents in more detail later.
Life insurance agents, meanwhile, receive front-loaded commissions of 40% to up to 115% of the policy's first-year premiums, although those for renewals nosedive to about 1% or 2%. Some agents even stop receiving commissions after the third year. If you want to know how much exactly life insurance agents make, you can check this article that we prepared.
Many insurance agents also work full-time as salaried employees for insurance companies and agencies. Depending on their contract, they may earn a fixed wage or this plus commissions. Companies may also provide staff bonuses if they reach a certain profit target.
In summary, here are the ways insurance agents make money:
Commissions only
Salary only
Salary and commissions
Salary and bonuses
Apart from the commission structure, there are three main factors that impact how much insurance agents make. These are:
1. Type of agent
Insurance agents are contracted by partner insurers to distribute their products. They come in two types:
Captive agents: Who work exclusively with an insurance provider.
Independent agents: Who represent several insurance companies.
Generally, independent agents earn higher commissions than their captive counterparts, but there's a catch – independent agents often shoulder their own business expenses, including rent, office supplies, and advertising and marketing costs.
2. Type of policy
Insurance agents typically choose a line or two to specialize in. This can include auto, home, life, health, and business insurance. As mentioned earlier, commission rates are higher for new life and health policies, although the amount drops after renewal. For car and home insurance policies, the rates do not differ that much after the first year.
3. Location
Employment rates, cost of living, public safety and accident rates, and accessibility to public services all play a part on how much insurance agents make in a particular state or city. A big city with a dense population, for instance, offers a lot of opportunities for insurance agents to sell insurance compared to a small town with fewer residents.
BLS' website has a tool called the OEWS Query System, where you can compare insurance agents salaries by state, metropolitan area, and non-metropolitan areas. In the sections below, we will reveal how much insurance agents make in the following based on the searches Insurance Business made using the online tool:
10 highest-paying states for insurance agents
10 lowest-paying states for insurance agents
10 highest-paying metro areas for insurance agents
10 lowest-paying metro areas for insurance agents
10 highest-paying non-metro areas for insurance agents
10 lowest-paying non-metro areas for insurance agents
10 highest- and lowest-paying states for insurance agents
How much do insurance agents make in the highest- and lowest-paying states in the country? Find the answers in the tables below.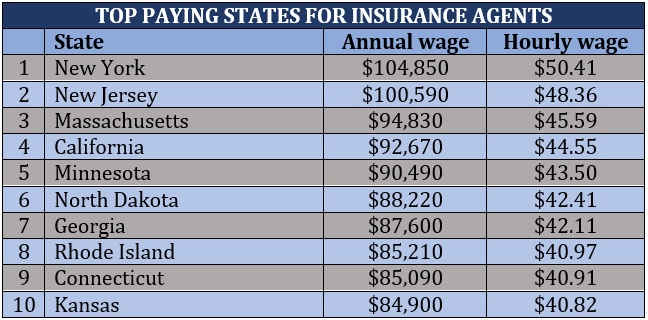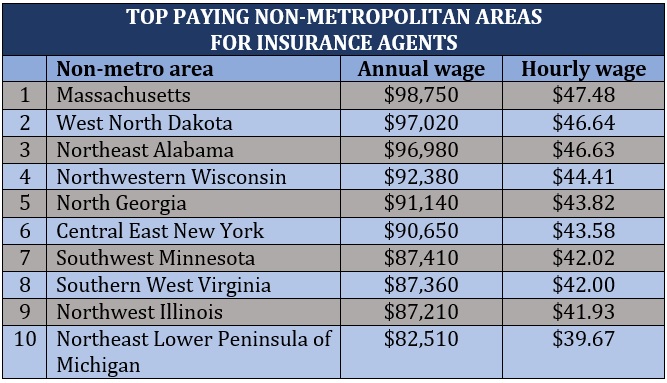 10 highest- and lowest-paying metro areas for insurance agents
These metropolitan areas pay insurance agents the most and the least. Check out the figures below to find out how much insurance agents make in these areas.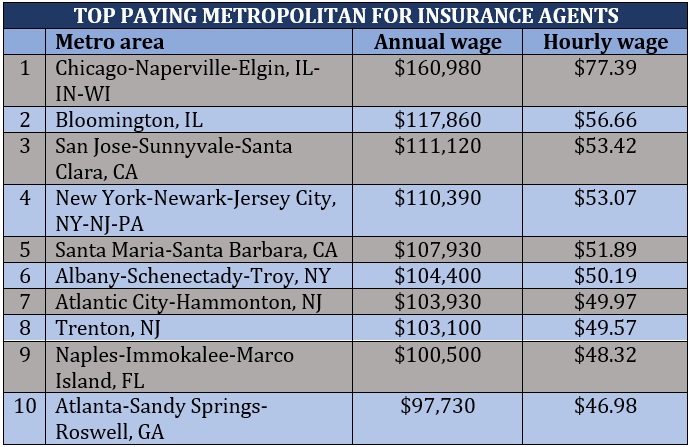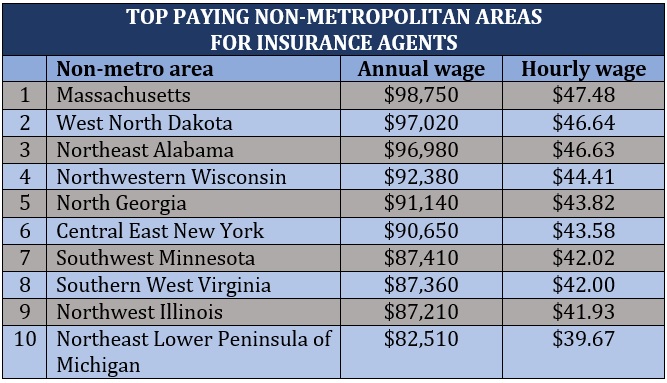 10 highest- and lowest-paying non-metro areas for insurance agents
Meanwhile, if you're wondering how much insurance agents make outside the big cities, the tables below detail the average salaries of insurance in the highest and lowest-paying non-metropolitan areas.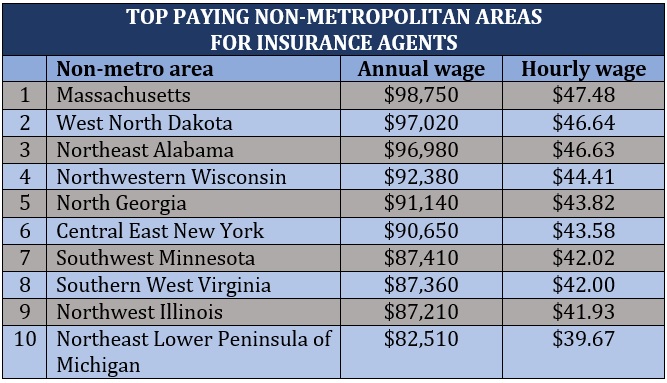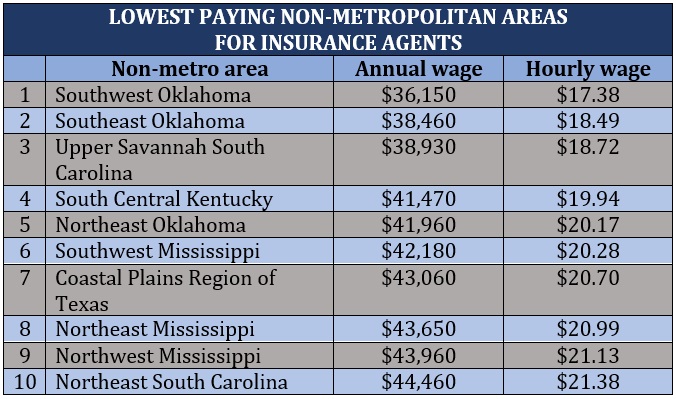 Just like any other career, being an insurance agent has its own pros and cons. Here are some of the benefits and drawbacks of choosing insurance sales as a career path.
Pros
Fewer entry barriers
Insurance agents must comply with licensing requirements, which vary in each state. But apart from this, there a very few entry barriers for those wanting to pursue this career path. Although most companies prefer candidates with a college degree, the role itself does not require one. Mostly, insurance agents learn the ropes as they go about their jobs and through various training programs.
Being an insurance agent provides a good living salary that has a strong potential for growth. And with many insurance agents earning income through commissions, if you have a great work ethic and are willing to place yourself out there to establish relationships with clients, more opportunities to earn a higher income will come your way.
Insurance will always be in demand as long as people are driving vehicles, buying homes, operating businesses, seeking medical treatment, and in need of financial protection. BLS predicts that employment of insurance agents will rise around 6% in the next decade. This figure is equivalent to about 52,700 new job openings annually, mostly to replace those who have chosen to move on to another industry or retire.
Many insurance agents enjoy the freedom to set their work schedules. If you choose to become one, you will have plenty of opportunities to work from home, although you may often need to meet with clients in-person outside your residence.
Opportunity to change lives
Being an insurance agent can be both a rewarding and exciting career as it gives you the opportunity to change people's lives for the better. By acting as an expert resource person, insurance agents help clients make informed decisions about what types of coverage offer them the best financial protection.
Cons
Unpredictable income
Having a commission-based job like being an insurance agent also has its drawbacks. Since your income is based primarily on the quantity of the sales you make, it can be difficult to predict how much your next paycheck will be. Also, if you don't push yourself hard, your income will reflect that.
If you're working as an independent agent, then it means you don't always have access to a full range of employee benefits. This means you also have limited paid time off, especially if you're running your own business. In addition, taking time off means you will have to spend time away from building client relationships and looking for leads, which can cost you part of your earnings.  
There are some people who treat insurance agents with disrespect or disdain, and in your daily work, you may encounter people like them. You may also receive a lot of no's before getting a yes, so having excellent people skills and an impervious nature are vital to be successful in this career.
If you think the pros of being an insurance agent outweigh the cons and are ready to jumpstart a career in the field, the best way to search for a job is through online channels. Find out which websites you can go to find the best insurance jobs in this article.
To be a successful insurance agent, you must possess a combination of hard and soft skills that enable you to connect with clients and offer them the best coverage possible. Here are some of the most important skills and attributes that you should have to be one of the best in the field.
People skills: The ability to build a relationship and maintain trust with clients is key for you to be able to find out what coverage they need and provide them with a suitable policy. 
Problem-solving skills: As an insurance agent, you will face unique challenges each day that will require you to come up with creative and innovative solutions.
Attention-to-detail: You must be able to pay attention to the finer details that impact the way you offer your clients coverage.
Self-motivated: You must have the intrinsic desire to perform to the best of your ability, even if this means going a step further to close a sale.
Communication skills: You must have strong written and verbal skills, so you can convey vital information to clients in a simple and jargon-free way.
Time management: Insurance agents must have the ability to prioritize tasks and complete projects efficiently.
Negotiation skills: The ability to reach a middle ground with clients in times of disagreement must be natural to you if you want to be a successful insurance agent.
Organization: Since you will be working with different clients, you must possess the ability to keep your records accurate and organized.
Eagerness to learn: Insurance agents must also show a strong willingness to learn and hone new skills.
Although often confused with each other, there is a huge distinction between an insurance agent and an insurance broker. If being a broker is more enticing for you, this step-by-step guide on how to become an insurance broker can help you. 
Were you surprised to know how much insurance agents make? Do you think the amount should be higher or lower? Chat us up in the comments section below.
Keep up with the latest news and events
Join our mailing list, it's free!